Local Food & Wine
We are pleased to announce a partnership with local winery "Murrindindi Vineyards" at Murrindindi. This acclaimed vineyard is run by the Cuthbertson family who produce wines of the highest quality. Winemaker Hugh Cuthbertson is a prominent figure in the Australian wine industry, and he is frequently called on for his expertise as a judge in wine shows.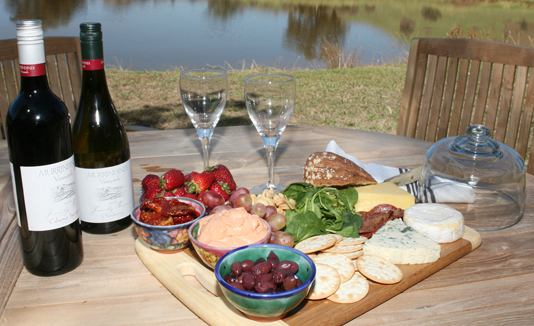 Delux cheese platter
With our
deluxe cheese platter
, we showcase the Cuthbertson family reserve wine (either
Cabernet
or
Chardonnay
– your choice), with a selection of high quality cheeses and biscuits. The award winning Chardonnay will already be in the refrigerator for those coming late. The cost for this option is $70 per couple.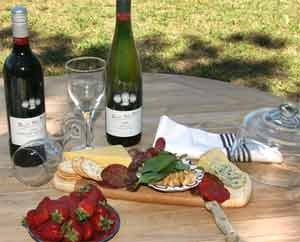 Regular cheese platter
The
regular cheese platter
, costing $49 per couple, is a selection of cheeses and biscuits with a bottle of the Murrindindi Vineyard's "Don't Tell Dad"
Cabernet
or a bottle of the "Don't Tell Dad"
Riesling
. The wines in this package are both fine wines, but more in the "easy drinking" mode.
If you like the Murrindindi wines you taste with the cheese platters we can supply them at cellar-door rates.
Exploring the region
The wine and food options around our lovely town are growing, with many more opportunities to sample wines from the region at
Snobs Creek Estate www.snobscreekvineyard.com.au A pretty vineyard on the banks of the Goulburn River on the way to Eildon, - great range of varietals on tasting.
Rees Miller Estate - a great vineyard near Yea, for the red wine enthusiast - Silkie and David also have a great line in cleanskins, so you could stock up with something for every occasion Tel. 5797 2101.
Growlers Gully - near Merton, is open for tastings and offers a great platter for a light lunch as well, which is always a great option Tel. 5778 9615
Nillahcootie Estate - is a great new find for us - on the Midland Hwy, enroute to Benalla, it has a great restaurant & a good range of wines, with a fabulous view over Lake Nillahcootie www.nillahcootieestate.com.au
Stonelea Country Estate is always a perfect option for that special dinner, bookings are advisable www.stonelea.com.au
Finally you can sample a great range of local wines and food at the Ruffy Produce Store which is the perfect spot for a casual lunch under the trees in summer, or cosy and warm inside in winter